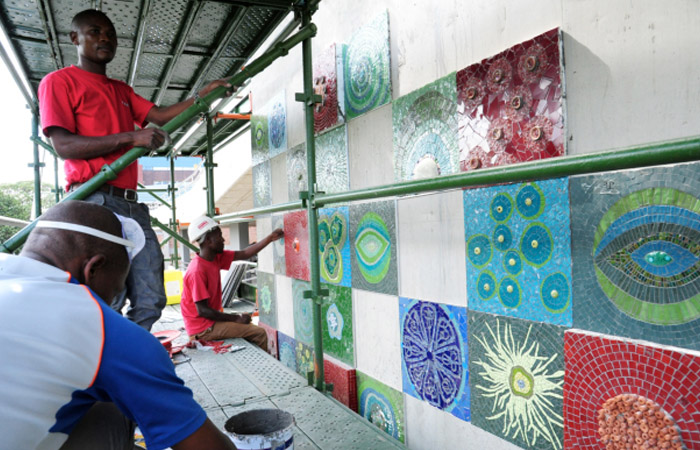 Hub for HIV and TB Research Breaks Ground
In July 2011, South African dignitaries as well as scientists from around the world gathered in Durban, South Africa, to celebrate the groundbreaking of the KwaZulu-Natal Research Institute for Tuberculosis and HIV (K-RITH) at the University of KwaZulu-Natal's Nelson R Mandela School of Medicine.
South Africa has more residents infected with HIV than any other nation in the world and one of the highest per capita rates of tuberculosis. K-RITH, a collaboration between HHMI and the University of KwaZulu-Natal, was founded in 2009 to conduct research on TB and HIV, translate the scientific findings into new tools to control these diseases, and expand the educational opportunities for future scientists in the region.
The groundbreaking ceremony was followed by a three-day scientific symposium featuring talks by researchers from Africa, Europe, and the United States who highlighted both the challenges and opportunities of researching TB and HIV where they are so prevalent. Scientific laboratories at K-RITH should be operational within a year.
This glass mosaic, a feature of the new K-RITH facility, was designed by architect Jane Durand and crafted by locally trained artisans.
International Early Career Scientist Program Announced
HHMI committed $24 million to help up to 35 early career scientists establish independent research programs. The awards will support scientists who have trained in the United States at the graduate, medical school, or postdoctoral level; have run their own labs for fewer than seven years; and work on biomedical research in a university or nonprofit research institution in one of 18 eligible countries: Argentina, Brazil, Chile, China, Czech Republic, Egypt, Hungary, India, Italy, Mexico, Poland, Portugal, Russia, South Africa, South Korea, Spain, Taiwan, and Turkey.
The program is designed to complement HHMI's 2008 initiative supporting 50 early career scientists in the United States. If the program is successful, it could form the basis for a larger international endeavor.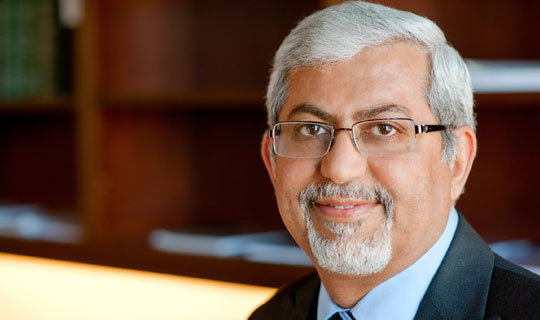 HHMI Welcomes New Chief Financial Officer
The HHMI Board of Trustees elected Nitin Kotak as the Institute's vice president of finance and chief financial officer. In February 2011, Kotak joined HHMI from Technest Holdings, Inc., where he was chief financial officer and treasurer. He succeeded Edward J. Palmerino, who had held the post since 2006.
A native of India, Kotak received a bachelor of commerce degree from the University of Calcutta, where he graduated with first class honors. He spent more than 17 years working in a variety of finance-related positions at ITC Limited, the Indian associate of the Fortune 500 company British American Tobacco. He has also worked at India-based Mattel Toys, a subsidiary of Mattel, Inc., and Able Laboratories, Inc., a developer and manufacturer of generic pharmaceuticals. In 2005, Kotak joined the Bethesda, Maryland-based technology company Technest as vice president for finance and operations and became chief financial officer and treasurer in 2008.
At HHMI, Kotak oversees budget and financial analysis, the controller's office, treasury, internal audit, and procurement.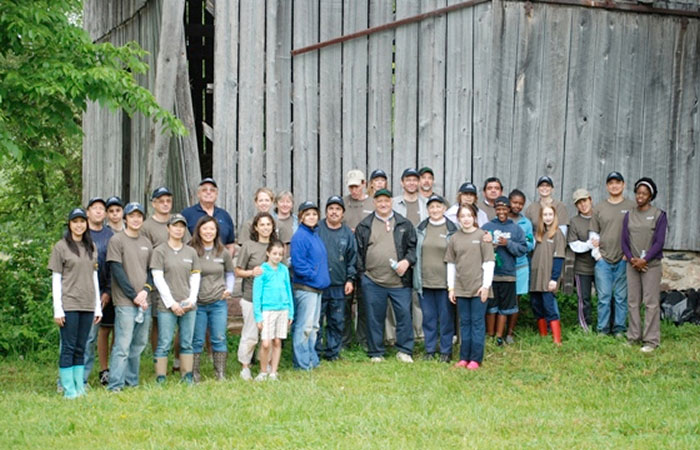 Community Partnership
In an effort to give back to the community that has housed HHMI headquarters since 1993, the Institute announced a new community partnership program to raise funds for local charities and connect HHMI volunteers with service opportunities across the region. In March, the community partnership kicked off a year-long commitment to the Silver Spring, Maryland-based poverty relief organization A Wider Circle. Two fundraising auctions and a back-to-school drive resulted in a donation of more than $10,000 to the organization. Since then, 221 HHMI volunteers have donated their time and talent to A Wider Circle as well as the Button Farm Living History Center in Germantown, Maryland, with more events and donation drives planned for the year to come.
HHMI volunteers gather for a group shot at the end of a long work day at the Button Farm Living History Center in Germantown, MD.