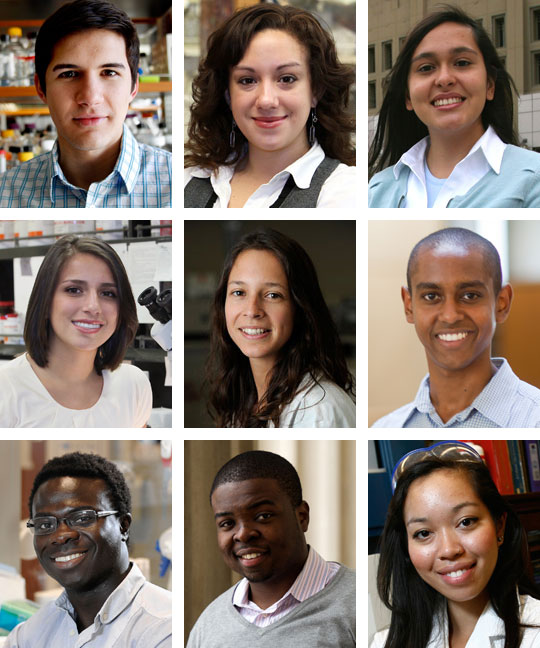 Top row: Nicolas Altemose, Andria Ashmore, Nadia Herrera. Middle row: Jessica Cabral Jimenez, Sandra Jones, Benyam Kinde. Bottom row: Espoir Kyubwa, Chinweike Okegbe, Gloria Tavera.
New Gilliam Fellows
HHMI has selected nine exceptional individuals to receive the 2011 Gilliam Fellowships for Advanced Study: Nicolas Altemose of Duke University, Andria Ashmore of the University of California, Los Angeles, Nadia Herrera of the University of Texas at El Paso, Jessica Cabral Jimenez of the University of California, Los Angeles, Sandra Jones of Spelman College, Benyam Kinde of Harvard Medical School, Espoir Kyubwa of the University of California, San Diego, Chinweike Okegbe of Columbia University, and Gloria Tavera of the University of Florida.
The fellowships are aimed at increasing the diversity of college and university faculty by supporting Ph.D. research by students from minority or other groups traditionally underrepresented in the sciences.
This year, HHMI doubled the number of the Gilliam fellowships available, allowing up to 10 each year. Gilliam fellows are chosen from among students who have participated in HHMI's Exceptional Research Opportunities Program (EXROP), which places undergraduate science students in the labs of HHMI investigators and professors.
New Med Fellows and Research Scholars
Medical, dental, and veterinary students from 47 institutions across the country were invited to spend a year in a laboratory to hone their scientific skills and prepare them for possible careers in research.
As HHMI Medical Research Fellows, 72 students will work in laboratories at a research university of their choice. For the first time this year, three students in the Fellows program will work with scientists at HHMI's Janelia Farm Research Campus in Ashburn, Virginia, focusing on basic neuroscience research and development of new imaging technologies. Another 42 students will live in a refurbished cloister on the National Institutes of Health (NIH) campus and work with NIH researchers as HHMI-NIH Research Scholars.
The two medical education programs, which are part of a $4 million annual HHMI initiative, are designed to encourage a greater number of medically trained students to become physician-scientists. This goal is accomplished by giving them a year away from their medical courses and clinical rotations to do laboratory research.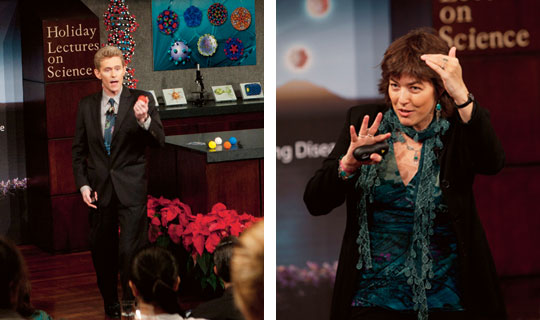 Joseph L. DeRisi
and Eva Harris
Holiday Lectures: The Science of Emerging Disease
Nearly 200 high school students from across the Washington, D.C., area learned firsthand how scientists study the emergence and spread of deadly viruses such as SARS and dengue fever at the 2010 Holiday Lectures on Science. At least 3,000 others watched the live webcast of the lecture series, Viral Outbreak: The Science of Emerging Disease.
Eva Harris, a professor at the University of California, Berkeley, told students about her experience studying dengue fever with scientists and clinicians in Nicaragua and their efforts to improve detection and treatment. The students also learned how scientists identify previously unknown viruses from HHMI investigator Joseph L. DeRisi, of the University of California, San Francisco.
After the lectures, students worked in small teams to analyze virus data from DeRisi's lab and talked with public health experts who work to control the spread of mosquito-borne diseases in the United States. Fourteen teachers from the United States and Canada attended the lectures and spent the next few days brainstorming to create related lesson plans for other teachers.