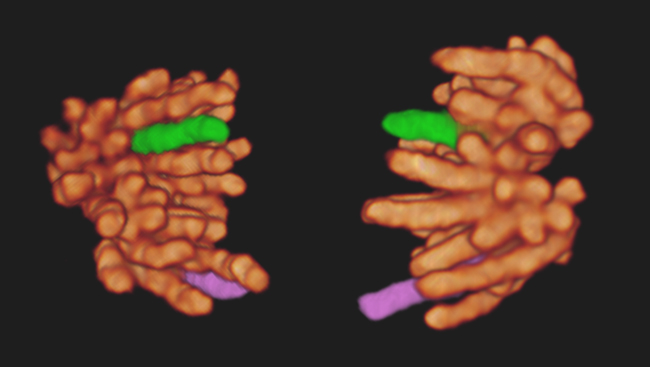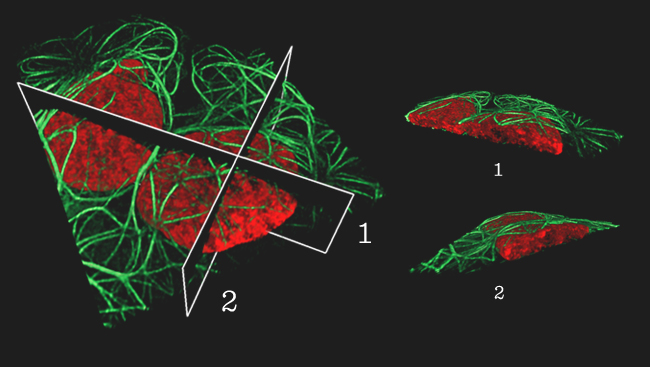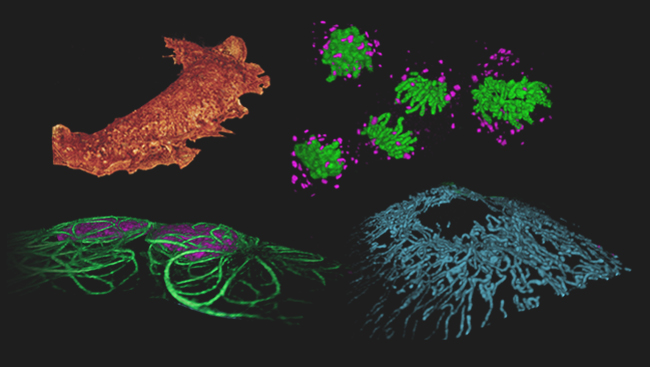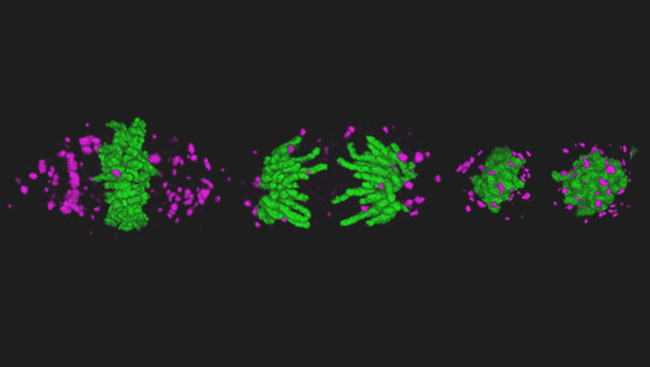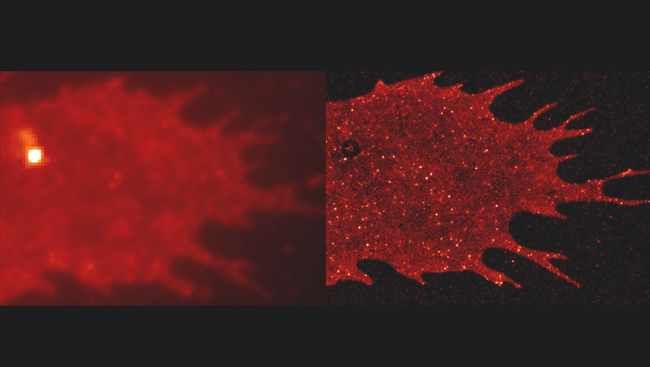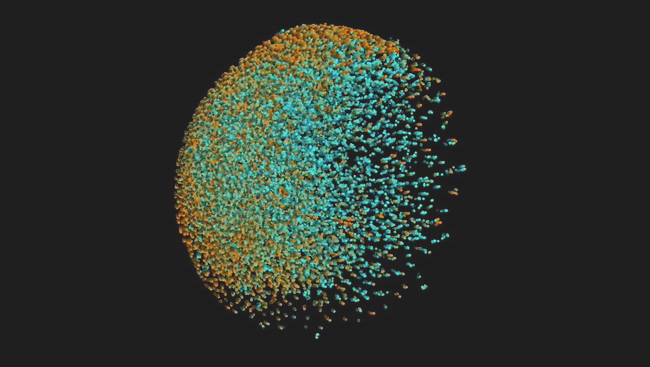 A Hub for Cutting-Edge Microscopy
Much of biology takes place on a scale that's hard to see, let alone fathom. For example, neurotransmitters zip between cells in the brain, genes turn on and off to guide an organism's growth and development, and proteins carry messages through the shape of their structures.
However, scientists at HHMI's Janelia Farm Research Campus are at the forefront of visualizing such processes, developing new technologies and methods that let scientists watch biology in action.
Janelia group leader Eric Betzig led the development of one such technology, announced March 4, 2011, in Nature Methods. His new technique, called Bessel beam plane microscopy, produces three-dimensional movies of living cells.
Scientists already knew how to add fluorescent tags to proteins in a living cell to watch the proteins in action. As a microscope's light shines on the cell, however, the fluorescence begins to fade, making it difficult to track the proteins' movements for any extended period of time. Moreover, most microscopes light up more of the cell than the small area in focus, reducing the fluorescence even faster.
Betzig wanted to solve these problems by lighting up smaller portions of the cell at a time.
First, he turned to plane illumination microscopy. This technique shines light at the side of a cell rather than from the top, making the light more specific to the plane of the cell that is in focus. However, it still lights up a wide segment of the cell. So, Betzig's lab tried a Bessel beam, which creates a thinner sheet of light. In addition, they didn't shine the beam continuously, but turned it rapidly on and off.
Using this combination of methods, the team imaged cells as fast as possible, capturing 200 frames per second. They then combined these flat images into a three-dimensional photo of the cell. However, because the process is so fast, they weren't limited to only still images; they could stitch together series of photos into movies. Now, they can watch cellular processes such as chromosomes separating during cell division.
Also at Janelia this year, group leader Harald F. Hess used a cutting-edge microscopy technique he developed with Betzig over the past decade, called iPALM, to visualize how cells interact with the matrix of molecules around them.
This extracellular matrix (ECM) provides structural support between cells and helps anchor them in place. Hess used three-dimensional high-resolution fluorescence microscopy to study the molecules found at the junctions between cells and the ECM and to learn how they are organized. His observations were published online November 24, 2010, in Nature.
Janelia's position as a hub for cutting-edge microscopy will soon get an added boost. Developed in collaboration with HHMI's science department and expected to draw scientists from around the world, a new cryo-electron microscopy (cryo-EM) facility will be opened at Janelia next year. In cryo-EM, specimens are frozen in place using liquid nitrogen. Scientists can then view the specimen under the microscope without stains or special fluorescent molecules.
Cryo-EM is emerging as a powerful way of revealing the inner workings of cells at a resolution—down to the level of individual molecules—once thought unattainable.