Overview of Virtual Lab
This lab includes three experiments focusing on changes to the pelvic girdle and pelvic spines of freshwater stickleback populations.
Experiment 1: Analyze Fish from Lakes. Analyze the pelvic structures of living stickleback populations to compare freshwater populations to one another and to marine phenotypes.

Experiment 2: Analyze Fossil Fish. Analyze the pelvic structures of fossil sticklebacks from populations that lived 10 million years ago to determine the rate at which pelvic reduction can evolve.

Experiment 3: Pelvic Asymmetry. Measure the differences between the left and right sides of the pelvis in living stickleback populations to explore the connection between anatomical change and genetics.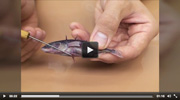 Click the Help tab for instructions on how to navigate the virtual lab.