CRISPR-Cas9 is a technology that allows scientists to change a cell's DNA at a precise location. It is widely used in research and has great potential for therapy.
Treatments using CRISPR-Cas9 technology are being developed for several genetic diseases, including sickle cell disease and cystic fibrosis.
Scientists can use CRISPR-Cas9 to knock out a gene so that it is not expressed, or edit the gene to correct a disease-causing mutation.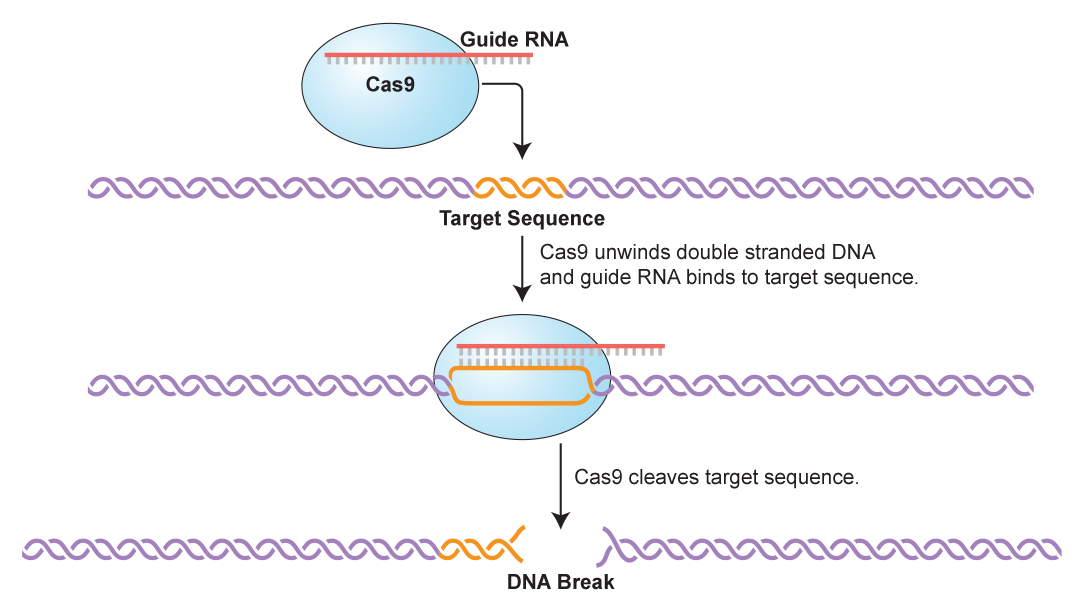 CRISPR-Cas9 comprises a nuclease (an enzyme that cleaves nucleic acids) called Cas9, paired with an RNA fragment called guide RNA. The guide RNA is designed to bind to a specific DNA sequence in the genome of a cell. It guides Cas9 to that target sequence, where the enzyme cleaves the DNA, leaving a double-stranded, blunt-end break. Once the DNA is cut, researchers can take advantage of the cell's DNA repair machinery to add or delete pieces of DNA, or replace an existing segment with a DNA sequence they designed.
When the Cas9-guide RNA complex cleaves the DNA in a cell, the cell machinery will recognize and repair the double-stranded DNA break using one of two repair mechanisms: nonhomologous end joining (NHEJ) and homology-directed repair (HDR).
NHEJ is the more frequently used, faster repair mechanism, because the cell does not use a template to join broken DNA ends together. As a result, on rare occasions NHEJ can result in small 1- to 10-base pair insertions/deletions (indels). Such mutations can lead to a frameshift that knocks out that gene's function. If the DNA break is repaired correctly, CRISPR-Cas9 will cleave the sequence again. Eventually, the repair process will introduce a mutation in the gene of interest.
HDR is less error-prone and uses a homologous DNA template to repair the DNA break. Scientists can take advantage of this process by introducing many copies of an artificial template DNA in cells along with CRISPR-Cas9. The repair template includes a DNA sequence that scientists want to introduce at the site of the cleavage. After Cas9 cleaves the cell's DNA, the HDR mechanism repairs the break by copying the sequence from the template DNA. This mechanism can be used to repair a disease-causing mutation in a gene, change the function of a gene, or in other applications.
The CRISPR-Cas9 technology is a simplified version of a natural defense mechanism of bacteria and archaea that protects them against invading viral pathogens. CRISPR stands for clustered regularly interspaced short palindromic repeats and is named for a locus within the prokaryotic genome.